Profile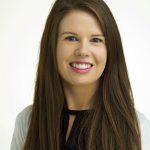 Kate Keogh
About Me

I am a researcher in Teagasc, the Irish agri-food government research authority. I study the interaction between different diets and nutritional level and genetics in cattle. In my free time I enjoy music and travelling.

Read more

My work is focused on determining how different diets, e.g. different amounts of feed or different types of feed can affect growth in cattle and how different genes can be 'switched on' by different diets. Genes that we identify as 'switched on' by different diets can then be used for more efficient breeding of cattle. For example we can identify genes that are responsible for cattle to be more environmentally friendly (they produce less greenhouse gas), which can reduce the impact of cattle production on climate change. We can also identify genes that are 'switched on' based on diets which can contribute to healthier meat, benefiting the consumer.

My Typical Day

I arrive at work at 9am and first check emails. The daily work-plan can vary from day to day, but usually have meetings with other researchers and postgraduate students. I might be running experiments in the lab, analysing data, presenting results and supervising postgraduate students. In the afternoon after lunch, I usually read some relevant research papers and towards the end of the day I will make a plan for the next day.

Read more

My favourite thing about being a researcher is that every day is different. Some days are spent in the lab, running experiments, other days are spent in the office reading research papers, analysing data. There are also times, when we are away from the main workplace for example when providing lectures for college courses or when presenting our research results at conferences, both in Ireland and abroad.

Other researchers that I work with, although based in the same location work in different areas or research and so we usually chat about what we are doing in our projects. This is great as we can learn so much from other researchers and you are also constantly learning new things either in your own research or from others that you work with by finding out about their research

My CV

Education:

Secondary School in Newbridge College; degree in Trinity College Dublin and PhD in University College Dublin

Qualifications:

B.A. in Natural Science, specialized in Biochemistry; PhD in molecular biology and physiology

Work History:

Clerical staff in Health and Safety Authority and Kildare County Council. Freelance tutor.

Current Job:

Researcher

My Interview

How would you describe yourself in 3 words?

Curious minded geneticist

What did you want to be after you left school?

a pharmacist

Were you ever in trouble at school?

No

Who is your favourite singer or band?

The Coronas

What's your favourite food?

Stir-fry

What is the most fun thing you've done?

anytime that I have gone travelling

If you had 3 wishes for yourself what would they be? - be honest!

travel the world, never get unwell and to win the lottery!

Tell us a joke.

Why did the biologist break up with the physicist? They had no chemistry.
---
---
---