Profile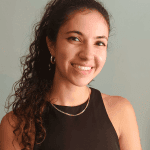 Danielle Nader
About Me

I am a final year PhD research student living in Dublin, Ireland👩🏽‍⚕️. I am American-Lebanese, and I would describe myself as a bubbly, talkative, and playful person!

Read more

I am a Microbiologist, so a huge interest of mine is fungi – (you might know them as mushrooms🍄). Fungi have a huge medical potential and are extremely important in both the environment and in our bodies. They have so many different beautiful variations too, so I love going for hikes and keeping an eye out for 'shrooms! I also like to stay active, anything from going to the gym, long walks, yoga, and some ocean activities when I take trips back to Lebanon. Another hobby of mine is baking and sewing, both of which I am not very good at 😂. I have a Bachelor's degree in Biology and a Master's degree in Microbiology.

Read more

My experiments currently revolve around understanding why SARS-CoV-2 is able to cause such a severe infection (COVID-19). We believe that SARS-CoV-2 is different from other viruses because it has developed an ability to bind very strongly to different receptors across our cells. With this new ability, the virus can spread quickly across our body, which is why COVID-19 can happen in every person regardless of their age.

We base most of our experiments on models that we create in the lab to mimic what happens in our bodies. These models are called 'infection assays'. This requires many difficult steps. We first have to grow human cells at body temperature (37 °C) with plenty of nutrients found in blood serum. Once this model is created, we take samples of SARS-CoV-2 obtained from infected patients and neutralize it, so we have no risk of infecting ourselves or contaminating other colleagues in our lab.

This work can only be done in very high safety conditions with a trained Microbiologist! 👩🏽‍⚕️🥼🧫🧪🔬

My Typical Day

My morning starts with a coffee and a cinnamon-raisin bagel (my favorite). I get to work around 8:30AM, where my day consists of either experiments in the lab, writing and reading papers, or demonstrating in student labs. If I'm not staying late to run experiments, I usually head to the gym around 5PM.

Read more

Usually if I have several large and important experiments planned, I prepare a schedule ahead of the week so I can start Monday early and refreshed. These experiments usually have some time points scattered throughout, which means I have an hour or 2 that I can go back to the office and do other tasks. These include reading research papers that other scientists have published on their own work. It is really important to stay up to date on the changing scientific field around you, and be knowledgeable about your topic! Sometimes I have scheduled demonstration sessions where I join Microbiology labs for Undergraduate students. My bench usually has around 15 students, so I go around and help with any techniques they happen to be learning that day (ranging from pipette use, dilution help, growing and identifying bacteria, and microscopy).

We use different experimental techniques in the lab to study SARS-CoV-2. This includes visualizing the virus under a microscope, infecting cells with the virus (under very high safety conditions called Biosafety-Level-2 and 3!), studying protein levels, and formulating drugs to try and target the virus.

What I'd do with the prize money

We are currently working on a drug that we believe has promise in preventing SARS-CoV-2 ability to target our cells. We have published these results, and are still performing more experiments to validate our findings, so I could really use an extra set of hands! Therefore I would use the extra funding to bring in an undergraduate or Master's student with an interest in microbial infections, to teach them some new skills which hopefully would be effective in improving their commitment and engagement in science.

My CV

Education:

Undergraduate in Biology, Hons (Lebanese American University). Master's Degree in Microbiology, High Distinction (University of Aberdeen)

Qualifications:

5 years lab experience as a Microbiologist working with Candida albicans. 1.5 years experience working with SARS-CoV-2.

Work History:

Royal College of Surgeons in Ireland (PhD student)

Current Job:

PhD student

My Interview

How would you describe yourself in 3 words?

goofy fungi-loving microbiologist

What did you want to be after you left school?

a scientist

Were you ever in trouble at school?

Always got called out on talking so much to my friends!

Who is your favourite singer or band?

Frank Ocean

What's your favourite food?

Mexican food

What is the most fun thing you've done?

fed a group of baby elephants in Sri Lanka! 🍌

If you had 3 wishes for yourself what would they be? - be honest!

1- To be happy and fulfilled with what I have. 2- The ability to hold infinite information. 3- The ability to speak every language.

Tell us a joke.

Two bacteria walk into a bar. The bartender says "HEY! We don't serve your kind here." The bacteria look at him and say "Oh don't worry, we're Staph."
---
---
---