Profile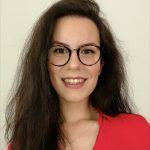 Daniela Costa
About Me

I moved to Galway to become a neuroscientist 🧫🔬 I love Harry Potter, playing basketball. I find my freedom when I dance!!

Read more

I'm a serious nerd that is always trying to learn more and more about the world surround me. I never get tired of knowing more. And that's one of the reasons I became a researcher.

But I get pleasure from other activities as such dancing, singing. I love to draw and being in contact with Nature. I enjoy interacting and knowing new people. I am also very competitive, which is great when it comes to basketball games. I am crazy about football and my dogs!

I am originally from Portugal, where I studied my whole life. Until I moved to Bordeaux to be part of a project of Parkinson's disease. This experience really helped me understanding how much I'd like to study the brain and to help people by developing therapies.

In the meantime, I was tutoring students from several universities (biology, chemistry, biochemistry, biophysics) to excel themselves and believe in their capacities to succeed. No subject is complex when your mind is opened to listen and learn 🙂

My Typical Day

Usually I wake up and try to do some exercise before work. Then I head to the lab to done some experiments. Depending on the experiment, I can leave the lab early or late. Depending on the days, I need to do some research about a certain topic I need to work on, or analyze some of my results. During the night I try to enjoy some fun time with my housemates, do some reading before bed.

What I'd do with the prize money

I'd promote the social interaction of different generations of a family around science-related themes.

My CV

Education:

University of Coimbra, Portugal

Qualifications:

Master degree in Molecular and Cellular Biology

Work History:

Freelancer tutor, supermarket during college and in a lab in Bordeaux

Current Job:

PhD candidate

My Interview

How would you describe yourself in 3 words?

Passionate dog-loving neuroscientist

What did you want to be after you left school?

Teacher

Were you ever in trouble at school?

No

Who is your favourite singer or band?

The National

What's your favourite food?

Portuguese dish called Bacalhau à brás

What is the most fun thing you've done?

Going on a 2 week trip solo around Europe

If you had 3 wishes for yourself what would they be? - be honest!

Becoming a better person everyday, helping the ones in need and never let my smile fade away.

Tell us a joke.

Why is it bad to trust atoms? They make up everything!
---
---
---