Profile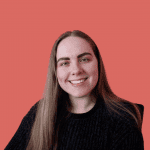 Ciara Feely
About Me

I live in Dublin. I'm a computer programmer by day and a drama teacher in the evenings and weekends. I love walking my dog Lola, going to see plays in the theatre, travelling to new countries and trying new food!

Read more

During all of my school years I was very involved in Speech and Drama at my theatre school, and in my final year of school I completed my drama teaching diploma, and have been working teaching drama in my spare time since then, and now work with mostly teenage and adult students.

Many people think drama is very different to science but actually they go very well together! A lot of what we do in drama is improvisation (making up things on the spot) and very creative which is brilliant for the creative problem solving that scientists do.

I love science communication and sharing about my research on social media. It's a great way to connect with other people in different areas of science to learn more about areas that I'm not involved with myself.

I am involved with the Equality, Diversity and Inclusion Committee in my work, and encouraging gender equality and diversity in computer science is a big passion of mine. I believe programming should be something that everyone should have access to learn as it can be used in so many ways.

I actually use programming a lot in my drama teaching – to generate random improvisation ideas, as a way to improve my pronunciation of different accents, and to generate replies to emails automatically! It helps me to save hours per week that I can then spend doing more of the things that I love.

Read more

I am doing a PhD in Computer Science, and my research is focussed on trying to make recommendations for marathon runners to help them to achieve their race goals, fitness, or avoid injury.

How does it work?

I will take a runner (let's call them Jamie) and their current marathon training programme, and compare this to all of the other runners to try and find the most similar runners. Then I will use this group of similar runners to guess information for Jamie, for example the race-time that they will achieve, or their likelihood of becoming injured.

If I know what Jamie's goal marathon time is, I can also search the data for runners who are similar to Jamie, but who have achieved that goal-time, and use their future weeks of training as a recommendation for what Jamie can do to achieve their goal.

What do I use?

I program in a language called Python which is the same language used in the Leaving Cert Computer Science course.

What I like about my work is that I only need my laptop – I can work from anywhere in the world.

My Typical Day

I usually wake up at 7am and get straight to work. I like to take long breaks during the day for meals, exercise, walks with my dog, and relaxing, and then I can come back fresh to work in the afternoon. I don't have a set finish time, I usually just work until the work is finished, typically around 4pm.

Read more

I work from home most days, and at the moment I head to the office two days a week.

When at home I will often try to get a few hours of work done when I wake up (before my brain has a chance to fight back!). Then I might go to the gym or for a walk, and have breakfast – usually eggs. Then I will go back to work for a few more hours before taking my dog out for a walk and having lunch. In total I try to get 3-4 hours of focussed work done in the morning, usually that is programming, or it could be writing a publication.

In the afternoon when my energy levels are lower I will work on grading for any classes I am teaching, any administrative work or content creation for social media.

What I'd do with the prize money

To develop workshops that encourage people in all fields (STEM and non-STEM) to learn programming.

My CV

Education:

Presentation Primary School Terenure, The High School Rathgar, University College Dublin for Undergraduate, Masters and PhD, UCLA for study abroad in Undergradate.

Qualifications:

BSc. in Mathematics and Statistics, MSc. in Sociology and Data Analytics, working on my PhD in Computer Science

Work History:

Intern at Mastercard, Director and Teacher at Betty Ann Norton Theatre School

Current Job:

PhD Student

My Interview

How would you describe yourself in 3 words?

problem solving programmer

What did you want to be after you left school?

An Earth Scientist (but I found out I don't like lab work!)

Were you ever in trouble at school?

Yes! For talking too much.

Who is your favourite singer or band?

I don't have a favourite but I'm loving Olivia Rodrigo and Billie Eilish right now

What's your favourite food?

Pasta

What is the most fun thing you've done?

Swimming with pigs in the Bahamas

If you had 3 wishes for yourself what would they be? - be honest!

1. To be part of positive change in equality and diversity in computer science, 2. To only be involved in work that makes a positive difference in the world, 3. To find a way to blend my computer science work with my theatre work.

Tell us a joke.

Q - Why did WiFi marry the computer? A - They had a great connection.
---
---
---